Eddie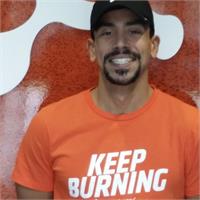 Hometown: West New York, New Jersey
Fun Facts: When I'm ready to relax or before bed, I like to watch anything on the History, Science or American Heroes Channels.
Favorite exercise: the good old Push up
Certifications or Specializations: National Academy of Sports Medicine Certified Personal Trainer. Specialize in mid to long range running and obstacle race training and competing.
Why I love OTF: 1)Great science backed workouts that push you to be becoming a better you. 2) the technology is a great way to monitor your workout to either give more or bring it down if you need to. 3) Knowledgeable coaches that will lead you through an amazing workout so all you need to do is show up.
Eddie is currently not instructing any classes.